EMB is now a Kvaser Qualified Sales Representative
We're excited to announce you can now buy Kvaser CAN Solutions in our Webstore after Kvaser made us a Qualified Sales Representative for the UK, as announced on their website back in May.
See the article on Kvaser's website here: EMB Power joins Kvaser's qualified sales representative network
A universally useful solution
As the most widely used bus architecture in automotive design, the Controller Area Network (CAN) is suited to any control system where a network architecture is needed. Advanced CAN solutions are useful to engineers designing and deploying systems in areas as wide-ranging as trucks and buses, petrol-driven and electric cars, industrial automation, avionics, construction equipment, building automation, domestic appliances, marine, medical, military, railway, telecoms, textiles and more. The Displays, Keypads and Controllers that EMB sells to our customers are great examples of devices that a Kvaser CAN device can listen to, creating logs and enabling troubleshooting when connecting up to a CAN bus network. We use Kvaser Products ourselves and recommend them to our Customers, so we're ideally placed to be a Kvaser Qualified Sales Representative!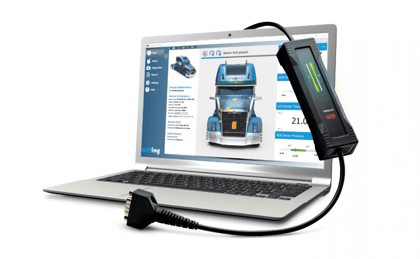 Essential for electrification
The Controller Area Network (CAN) protocol was developed for the automotive industry and has since found widespread application elsewhere. Kvaser's advanced CAN solutions are used by engineers designing and deploying a wide range of systems in extremely varied industries, but are especially useful in electric systems. Electric Vehicles; electric cars, trucks, and non-road type vehicles such as golf carts, as well as electric-powered machinery such as forklifts have battery banks within the vehicle that communicate with the Battery Control Module using CAN.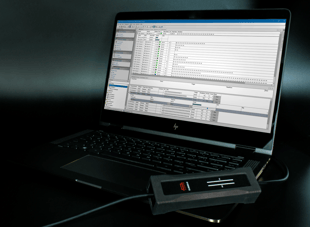 With more than 30 years of Controller Area Network (CAN) development experience and more than 100 products to their name, Kvaser has deep knowledge of CAN bus and related technologies. Talk to EMB today about how our Kvaser CAN solutions can help you!
Various industries use Kvaser CAN products every day;
Automotive

Among the electronic control modules that CAN is used to connect today are engine management, suspension, cruise control, transmission, ignition, HVAC, telematics and rear lighting. Automotive applications fall into two categories: body control, dealing with passenger comfort; and powertrain, relating to engine and transmission control.

Aerospace

The aerospace industry was quick to recognise the controller area network's (CAN's) inherent reliability. Kvaser's high-speed CAN interfaces are compatible with ARINC Specification 825, the general CAN standard for airborne use, as well as J1939, CANopen and DeviceNet. 29-bit identifiers are supported by all Kvaser interfaces, meaning that they can transmit and receive all ARINC 825 CAN-frames perfectly.

Marine

From small pleasure boats and tugs, to cruise ships, icebreakers and oil rigs, CAN (Controller Area Network) is the communications protocol of choice for many marine electronics systems. CAN is the link between the diesel engine interface, the power generation and supply systems, fuel systems, lubrication systems, steering control and various network-capable equipment, such as radar, fishfinders and chartplotters. Providing a robust, deterministic network with high performance and radiation tolerance, the CAN system design also offers great flexibility and cost-effectiveness.
Agriculture

ISO 11783 standard, aka ISOBUS defines a communication protocol for the operation and control of agricultural implements and is based on the SAE J1939 protocol, which in turn is based on CAN bus. Similar to how CAN facilitates the reading of diagnostic fault codes by a car mechanic, agricultural machinery mechanics can now achieve the same for a tractor.

Grid Power Infrastructure

Grid Power infrastructure applications include cell phone towers, A/C power substations, status Battery Energy Storage Solutions (BESS), Internet infrastructure equipment, aviation ground support systems, tower communications and weather stations, plus Distributed Energy Resources. The latter application is a sizeable industry itself, encompassing solar and wind-generating plants.

Industrial Automation

The CANopen protocol has extremely varied applications in the industrial automation / control market. From injection modelling equipment to cigarette machines, cranes, forklifts and letter sorting machines, CAN is ideal for any assembly situation or simple sequence control. All our CAN interfaces are compatible with CANopen and DeviceNet. Look out too for Kvaser's Rugged product range of CAN interfaces and dataloggers which are designed for use in harsh environments, including those susceptible to vibration and water ingress.