What are the Practical Applications for Raptor ECUs?
New Eagle has come out with their own brand of original Electronic Control Units (ECUs). They've created these Raptor Control Modules (RCMs) in-house, meeting all the strict automotive standards. These RCMs, such as the RCM80 and RCM112, are designed for safety and supply chain security while leveraging the benefits of Raptor, New Eagle's unique Embedded Model-Based Development software.

Using these Raptor Control Modules can significantly speed up the development of your vehicle or machine control systems. Here are a few ways you can incorporate them into your design.




The RCM80
The RCM80 is a medium-sized ECU with a bunch of inputs (39) and outputs (40). It's perfect for handling specific computing tasks and is slightly less powerful than the bigger RCM112. It works great for all sorts of supervisory control applications and has some cool specialized uses, e.g.;

EV battery management system
If your vehicle has a Parent/Child battery management setup, you can use the RCM80 as the parent ECU. That's where it shines the most, although it can be used as a child ECU too.

Smaller supervisory controls
The RCM80 was built for medium to small control needs. Its compact size makes it super easy to integrate into your design.

Chassis controls
Want to control a bunch of chassis functions like windows, mirrors, or exhaust flaps with a single ECU? The RCM80's I/O capabilities are up to the task.

Auxiliary controls for recreational vehicles
The RCM80 is a top choice for managing water treatment, propane systems, air conditioning, and other electrical controls commonly found in recreational vehicles like motor homes and yachts.

The RCM112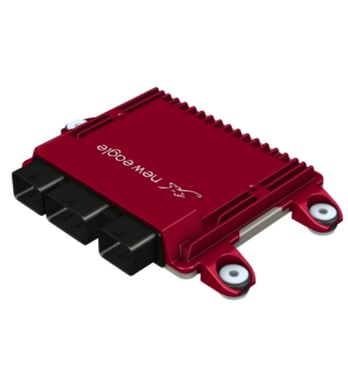 The RCM112 is a big, all-purpose ECU that can handle pretty much any control task you can imagine. It has 45 different inputs and 40 outputs and comes with plenty of features and processing power.

Universal VCU
This is the main purpose of the RCM112. It was designed to be a viable replacement for the GCM196, a New Eagle product that has been popular for years. It can work as a vehicle supervisor for anything from a smart car to a Class 8 semi-truck.

ADAS and autonomous controls
The RCM112's 4 sensor power outputs provide redundancy, making it an excellent choice for autonomous braking and pedal control. It's also ASIL D capable, which means it's perfect for advanced driver assistance systems that prioritize safety, such as pedestrian detection and adaptive cruise control.

Cutting-edge central communication gateway
With Broad-R-Reach 2-wire ethernet, 5 CAN-FD channels, and 2 LIN Channels, the RCM112 becomes a powerful and secure central communication gateway for any vehicle.

Replacement for multiple RCM80s
Thanks to its robust processing power and extensive I/O, the RCM112 can replace two separate RCM80s. If you want to simplify your design, consider swapping any pair of medium-sized ECUs with a single RCM112.


Versatile, Powerful
Whatever your project, Raptor's open-ECU development environment allows your engineers to utilize native blocks alongside Raptor blocks to get a head-start on a wide variety of projects, from Industry 4.0 automation to drone control systems. With short lead times and volume-based pricing, New Eagle's ECUs will allow your project to move as quickly and economically as a premium EV. And since New Eagle partners with "Tier 1" suppliers, our customers can use Raptor to build prototypes on the same ECU that will be used in production, with no delays between prototype and production.
So get in touch today, and let us help you with your control strategy, from converting an ICE vehicle to an electric one, all the way to creating an electric system for a 3-D printed car - we've developed ECU solutions for a wide variety of EVs and HEVs. The key is the Raptor EV Supervisor application model, a template for standard functions like startup and shutdown sequences, which saves months of EV development time.